We love to get photos and updates from our adopters. It's wonderful to see them living a good life in their forever homes.


Tripp
Tripp was pulled from an area shelter in bad shape. He was covered with fleas and ticks, had urine scald, nasty teeth, and heartworms. Tripp received a grant from CorgiAid, Inc. to help with his health issues. As you can see, Tripp is a now a very healthy happy boy that loves his family.
Gracie
Gracie was rescued on what was to be her last day of life from the local animal shelter. She came to us filthy, with lots of ticks, urine scald, tapeworms, a cherry-eye and grossly overweight. CorgiAid, Inc. helped Gracie with surgery to correct the cherry-eye and to become healthy. Gracie flew all the way to Boston to her forever home. She has a wonderful mom and dad, and a corgi brother named Wally.
Major
Major's owner passed away and he was bounced from one home to the next several times. He landed in our rescue and was subsequently adopted by a wonderful couple that routinely saw him in a backyard in their neighborhood. When he wasn't spotted for several days, they began actively searching for him. Major loves his mom, dad, and corgi sister Sadie.
Spanky
Spanky came to us from another all breed rescue group when he was returned by his adopter. We can't imagine why he would be returned, because we think he's one of the best boys we've had. It all worked out perfectly for Spanky though. He now has his very own ranch house in New Mexico where he supervises the front porch with his mom and enjoys his walks under the New Mexico sky.
Pee Wee/Lotus
An animal control officer found this sweet boy abandoned in the backyard of a small West Texas town. He was taken to the shelter where he was spotted by the officer's wife. She was immediately drawn to him, named him Pee Wee and took him home. He tried hard to be part of the pack, but just wasn't quite big enough to run with the big dogs already living there. Before Pee Wee could find his adoptive home, he had to get rid of both heartworms and hookworms. Thanks to CorgiAid, Inc. he was able to get the medical care he needed. Pee Wee began his new life with a new name--Lotus now lives in Pueblo, Colorado where he is loved by his new mom and dad and has a pack more suited to his size.
Dottie/Millie Smalls
Dottie was pulled from a local shelter. She was generally healthy and only needed routine medical before she was ready to start the search for her forever home. It didn't take long for her to be scooped up into an active home with a great dad. She begins her new life as Millie Smalls, after one of her dad's favorite singers, and is living in Lubbock, Texas. We are grateful to CorgiAid, Inc. for assisting Ms. Millie with her medical needs.
Peanut
Peanut was pulled from the shelter with a nasty bladder infection. His foster dubbed him "Peanut" and the name stuck. Peanut received a grant from CorgiAid to help him get up to speed on his health and he is now living in Nebraska. He is already attending corgi meet ups with his mom, dad and corgi sister April. He also has his very own labrador at home.
Lola
Lola was found as a stray. We made every effort to find her home, but no one came forward to claim this sweet lovable girl. Lola is now living with Tripp (the first dog listed above), and is loving life with her forever family. She goes on walks with her mom, watches T.V. with dad, enjoys playing soccer with the neighborhood children, loves snuggling with the little boys. One family. Two rescued corgis. Awesome!!
Tyke
Tyke, and his brother Tucker, needed a new home when their previous owners didn't have time for them anymore. Tyke is living in Tennesee now with his new dad and enjoying lots of attention, including Tyke Tuesday's.

Tucker
Tucker, and his brother Tyke, needed a new home when their previous owners didn't have time for them anymore. Tucker wanted a family of his own for Christmas 2013, and that's exactly what he got. He is loving life with his new family.
Alfie (formerly known as Tonto)
Alfie ended up in a small rural shelter and was brought in to rescue. He now has a brother Stanely and is taking long walks in Seattle with Joyce and Tim.
Gunner
Gunner was pulled from from a local shelter and through "corgi contacts" found his forever home with Kevin.
Oreo

Oreo's former owner was unable to care for him due to illness. Oreo was a lucky boy and landed himself a job riding shotgun and traveling the countryside with his new dad Kirk.
Libby
Libby was pulled from the shelter at only 11 pounds. She was very ill from malnurishment and needed to be fully vetted. Libby had a rectal prolapse that required surgery to repair. After recovering and regaining her strength she found herself a wonderful family to love her and another corgi to play with.
Natalie
Natalie's former senior owner with cancer was no longer able to care for her due to his declining health. She was surrendered because there was nowhere for her to go. We promised him that we would find Natalie a new home where she would be loved, just as he had loved her.
Odie
Odie was pulled from a shelter in West Texas near his last day to live covered in ticks. Those nasty ticks left him with anaplasmosis. He is doing well with his foster family and the anaplasmosis is being monitored closely. We're hoping that he will be deemed "cured" within the next few months.
William and Brandi (now Bonnie)
William was surrendered two days before his first birthday because he had too much energy and his owners no longer had the patience for him, nor the time he needed. Sweet Brandi/Bonnie was found wandering in a parking lot of a small town newspaper where she was cared for by various staff members while they tried to locate an owner.

These two became great friends while in foster care. We were very surprised to hear that a family wanted to adopt them BOTH! William and Brandi are our first double adoption!! They are now living in New Mexico and loving their new pack.
Princess
This adorably sweet senior was surrendered after 12 years the same family. She was generally healthy and happy, simply no longer wanted. Through social media, Princess was spotted by someone whose friend had recently lost their senior corgi after 161/2 years together. Princess' trip to her new home was coordinated and off she went to live in the Dallas area to be cherished for the rest of her life.
Thor
Thor was surrendered when the college student who adopted him and owned him for less than a year moved to California and could not take Thor along. It didn't take long for Thor to be scooped up, and oddly enough end up back in the same city he came from. His new mom and dad love him very much and he has a big shepherd mix sister that watches over him.
Max
Max was pulled from a shelter in a small New Mexico town. He was full of ticks, diagnosed with Ehrlichia and later developed a bladder infection. He's doing well now living with Jim and Mimi in Santa Fe. Lucky boy!!
Kliff
Kliff was pulled from a small rural shelter. His owner knew he was there, but wouldn't pay to get him back. From being unwanted to being a family's first beloved pet. A very happy ending for Kliff.
Sarah (now Rosie)
After eight years her family didn't want her anymore. They were looking forward to new things in life, and sadly Sarah wasn't part of that. It didn't take long for Sarah to find a new home where she will be treasured for the rest of her life. Sarah now has a new brother and a wonderful new mom and dad.
Ladd
Ladd's owner passed away. The people entrusted to be his caregiver then surrendered him to the local shelter. Ladd now has a new home where he'll be loved for the rest of his life.
Enzo
Enzo's owners were young college students who simply didn't have the time this little guy needed. They wanted him to go to a very active home, and that's definitely the case. Enzo is living in a performance home working on becoming an agility dog. He's loving his new life!
Gimlee
Another beautiful boy found in a West Central Texas shelter. Sweet Gimlee has a wonderful new mom and dad, plus a corgi brother.
Smidge
Bounced from neighbor to neighbor with less than appropriate care, including being under weight and hungry, a collar that was too tight causing a wound, and frostbite on her ears. Now she has a family of her very own.
Emmitt
This handsome boy was found in a West Texas shelter. He'd been there for weeks and nobody came for him. He won't have to worry about being unwanted or unloved ever again.
Lily (formerly Lilith)
Lilith ended up in a shelter near Louisiana when her elderly owner went into a nursing home and she was dropped off by the owner's children without so much as a name. Our friend at Corgis N Critters made sure she made it to safety. She came in with a terrible rash, an eye infection, a nasty mouth, a hernia and cataracts. Seven months in rescue, including caring for her after hernia repair and cataract surgery, and the rest of her life she'll be cherished.
Lexi
Lexi was surrendered to us when her family "didn't have time to devote to her" anymore. We were very happy to bring her into rescue, get her brushed up on her health, and send her to a loving home in Mississippi with a mom, dad, and brother to call her own.
Dominic

Dominic lived in the backyard of a West Texas town and was surrendered because, as a young male, he was "too active." We found that for a young, healthy, happy boy he was just right. His mom and dad, who by the way also adopted Smidge from us, thinks he's just about perfect.
Percy

Percy was pulled from an area shelter when his owner did not come to get him. He's enjoying life with his new family.
Ted

Ted was found in a Texas oil town and kept safe for while the nice folks that found him tried to find his owners. They had no luck so they called us to help. We tried as well, but nobody came for this guy. So, he has a new home now.
Penelope Cruz (now Minnie)

Minnie was just 14 weeks old and free on a Facebook group. We scooped her up an the rest is history as they say. She's a lucky little girl.
Bandy

Little Bandy was sprung from an area shelter and now has a family of her own family.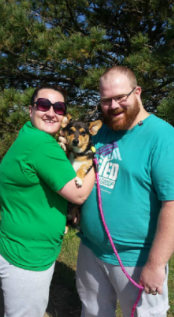 Jack II

After a divorce, Jack lost his home of 11 years. Then while in rescue, he was diagnosed with DM. With the help of CorgiAid and wonderful forever fosters, Jack is rolling along and enjoying his new life.
Sparks

Poor Sparks was hit a by a car and left for dead. A kind person stopped to check on him and found that he was not only alive, but miraculously not seriously injured. Nobody came forward to claim him while he was in the shelter, and we could not locate his owners after he came to rescue. Sparks enjoys life now happily with is brothers and sisters...off the street.
Rosie

Rosie was pulled from the local shelter. She needed someone willing to take on her endless energy and help her to be a great dog. Rosie hit the jackpot and found a home just perfect for her. She walks several miles a day with her mom and is continuing to work on not wanting to chase cars.
Gunner 2

Gunner was living on a chain in a small rural town. A person spotted him and contacted our rescue. We worked with the previous owner and he was surrendered to rescue. He has a new dad...and no chain.
Stumpy

Stumpy's owner passed away and he was taken to the local shelter. We were called on picked him up on Christmas Eve. For the new year, Stumpy has a new dad and new adventures.
Missy

Missy was surrendered, adopted and then surrendered again to the same shelter before coming to rescue. We're very glad they found our rescue...and that Missy has now found her home.
LadyBug

LadyBug was left at the shelter when her owner went into hospice care. The note to the shelter indicated that no one would be coming for her. The little bug has a new life now and is doing great.
Tristan and Kiera

Surrendered to us separately, these two found a home together.
Tucker
Tucker was found as a stray and no one ever claimed him after his finder tried every way they knew how to reunite him. He made his way to rescue and then on to a new home. His new home is working to help him to a healthy weight. Sometimes treats are in order though.
Taffy and Toby
Taffy and Toby were surrendered to us after a death in the family. They are a bonded pair and it's not just everyone that is looking for two senior boys. Time passed, but time also has a way of putting the right people together with very special dogs. Taffy and Toby are the third and fourth corgis that this kind couple has adopted. Lucky boys indeed!
Babe (now Daisy)
Babe's owner passed away and we were asked to take Babe and find her a loving home. It didn't take long at all to find a loving home for this sweet girl.